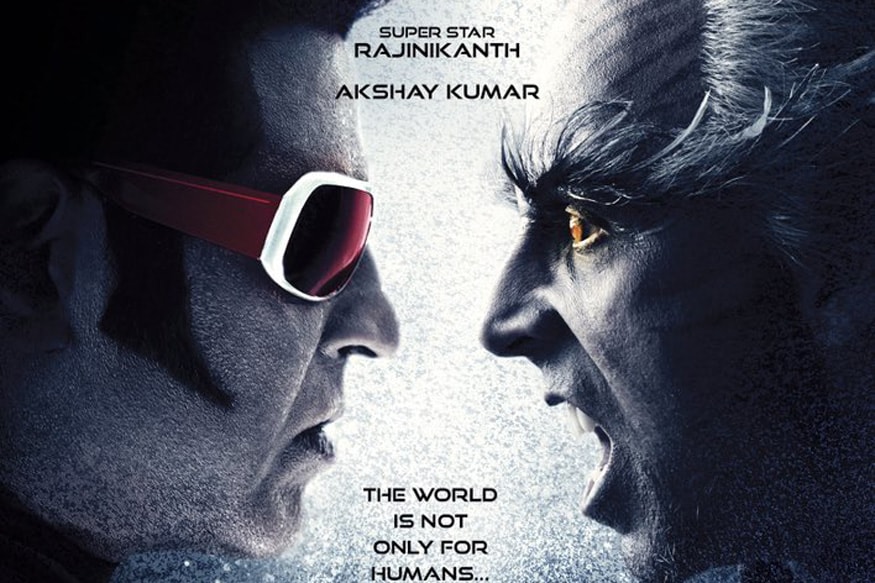 Director: S. Sankar
Cast: Rajnikanth, Akshay Kumar, Amy Jackson, Adil Hussain, Kaizaad Kotwal, Sudhanshu Pandey
When director Sankar took a risk by portraying Rajnikanth as one of the boldest and possibly the biggest superheroes the country had ever seen, albeit, in an android robot version named Chitti, it found favour with both critics and trade analysts, while getting zealously lapped by the Indian audience. Not only was Enthiran (2010) conceptually novel and entertaining, Rajnikanth's earnest and inspiring performance became the talking point of the film, helping it gross millions worldwide and making it one of the highest-grossing Tamil films of all time.
Eight years later in 2.0, the director seems to have strategically doubled (or perhaps tripled) the embellishments that made Enthiran a raging success – from the magnificent imagery to the VFX to the masala leaving oil at the sides to a hundred or so Rajnikanths sitting atop robotic VFX-inspired pigeons – but without the predecessor's plot, ingenuity or character graphs of the leads.
2.0 begins on an intriguing note. A tall, lanky man is seen walking sluggishly against the backdrop of an ominous sunset humming a rather peculiar tune on birds, determinedly climbs a mobile tower and hangs himself within seconds. Needless to state, this tragic opening sends shivers down your spine. Just when you start sinking your teeth in and wonder where the story will take you next, you see cell phones,and mind you, hundreds and thousands of cell phones of an entire city flying off people's hands, work desks, shelves and even from under the blanket. Go figure that.
What follows next is absolute mayhem. As mobile towers and all-things mobile get wrecked, thousands flock to the cops to file FIRs and hushed talks abound as to rival companies' sneaky tactics to grab the biggest pie of the telecom market. A mysterious gigantic hawk-like fiery bird makes an appearance, toppling buildings and trucks and even hapless people. There are extremely complex, and pseudoscientific discussions on 'microphotons', 'electromagnetic radiation', 'aura', 'photonsynthesizer' and the like – none of which is backed by evidence nor makes sense. Eventually you realize the writers don't care about the specifics or the accuracy of the scientific play here, and neither should you. Finally, after gory displays of what a cell-phone stuck inside a human oesophagus and intestines can do (never mind how they found their way in), it is decided with much sobriety and desperation that Prof. Vaseegaran must revive Chitti and rescue the largely unscientific common man in Chennai. Ministers and telecom company owners included.
The theme in the sequel sticks to the predictable good-versus-evil narrative, as Vaseegaran and Chitti 2.0 together attempt to take on colossal pakshi Pakshirajan (no seriously, that is Akshay Kumar's character in the film) in a human versus environment war. Full points to the makers for the show of subtlety. An ornithologist during his time on the planet, Pakshirajan loses his case against a venal lot of corporations and politicians, and finally, much like thousands of tormented birds falling to the ground each year in Vedanthangal due to radiation levels emitted by the mobile towers, he is driven to despair and a cataclysmic death. This mix of greed, power and technological wreckage gets a divine touch as 2.0 delves into the afterlife and we see, open-mouthed, how Pakshirajan's soul merges with thousands of those other tortured, vengeful bird souls to formOne.Giant.Red.Angry.Bird.
As much as it is intended to take the viewer on a nostalgic ride as to why Pakshirajan got reduced to a furious Pakshi, my tunnel vision could only see the human anatomy and recall those biology lessons back in high school. In short, this was way too much education than I paid for.
Not that I am complaining.
Because 2.0 does have its winning moments. If the lazy writing is excused, you will actually find yourself partaking wholeheartedly in the silly, yet earnest naiveté of this film – that a lone man's alter-ego can save the world (more specifically, Chennai).
Personally, for me, some of the most awe-inspiring moments in this film take place in the first half where the imagery of a cell-phone obsessed world is literally and emblematically given shape. As thousands of cell-phones are snatched up into the air by a mysterious force, popularly deemed the "Fifth Force", their fury is later collectively unleashed as they break out of carrier trucks and magically align themselves on the highway, with only their luminosity signifying their presence. This torrent of cell-phones later lines up along the walls of telecom honchos' homes, and even a dense forest – curling up like balls of fire, but spelling far more danger in all their ice-blue glory, before rushing towards the perpetrators like a tsunami wreaking havoc on an extra-terrestrial planet. These are moments where you truly feel the depth of the director's imagination emblematic representation of the horrors of modern-day cell-phone addiction.
The other time I truly sat up on the edge of my seat was towards the climax (more accurately, the climax which stretched over 20-25 minutes), when Chitti and Pakshirajan ready themselves for a larger-than-life combat in a stadium. As Pakshirajan bloats up to the size of a mobile tower (oh, the irony), Chitti too soaks up every metal in his way to beat Angry Bird Rajan's largeness. So much so that you find a Honda car hanging on his arm, even as he punches, lifts, goes under, inside and around, smashing Pakshirajan. These climactic moments are Hulk-level action-packed sequences blended with silly weirdness you cannot shake off, but these are also which make Chitti tolerable for you. In fact, when Chitti replicates into hundreds of microbot Chittis sitting perched on pigeons,threatening to take Pakshi's feathery friends down maut ka kuan, you cannot help but be amused at the scale of this epic face-off which rests on"Hurt 'em where it hurts the most". "If Pakshi's not letting us have our cell-phones back, he's gonna have to say goodbye to his bird buddies".
For all its talks about science and technology, 2.0 is for the most part, a mindless ride. Barring sparse moments of brilliance, there is little you can do to connect the many sequences that simply just whizz past your head. Fight sequences are deliberately are the most harped on about, because this is where Rajni gets to showcase a range of age-defying, gravity-defying stunts. As punk man Chitti 2.0, the superstar gets to flaunt much hoof and heft, as he takes on 5000 pound trucks without breaking a sweat, moonwalks along the walls of high-rise buildings, shoots a hundred or so rifles simultaneously in classic Rajni style, flies, enters Pakshirajan's body to give him a severe bout of diarrhoea…oh, I don't know…just about anything and everything you can think of.
This can make you go agape, because you cannot believe the ludicrousness of it all or whistle like a star-struck Rajni fan. Judging by the unanimity of whistles and "Rajni, Rajni!" that rang out in the theatre, I suspect the latter has been achieved here.
Which brings me to Rajnikanth's acting prowess and the scale of his stardom even at this point in time. The actor delivers a powerhouse performance, a pulsating energy that belies his actual age. He is equal parts humanitarian, humorous and unassuming as Vaseegaran, just as he is over-the-top, self-assured, indefatigable and charming as Chitti.
For an actor whose brilliance has remained unmatched over decades, pairing Akshay Kumar as Pakshirajan was probably the smartest move the director could have made. Kumar's Pakshirajan makes the switch from a modest, helpless ornithologist to a vindictive,determined monster bird with a tunnel vision, quite effortlessly. No traces of his previous persona remain and nowhere does he falter before the superstar.
I was particularly impressed by Kumar's makeup, and have taken quite a fondness to his Angry Bird avatar. Rarely have I seen such immaculate detailing in an Indian superhero movie.
There are notable performances byAdil Hussain (surprisingly playing a politician with a conscience and some common sense) as well as Amy Jackson who goes above and beyond merely being a prop and potential romantic lead for Chitti. On more than one occasion she saves Vaseegaran and Chitti, proving that the generous sprinkling of the divine feminine in the film isn't purely for sexist purposes.
Despite its obvious flaws, 2.0 is an enjoyable flick if you want to get a taste of watching a desi movie wrapped with the Hollywood touch. It is also a must-watch in that that it compels you to monitor your cell-phone usage. While the hazards of cell-phone radiation have not conclusively been proven, this movie is categorically a cautionary tale of drawing a fine line between using technology and getting consumed by it.
I swear I can see my husband being a little less interested in his mobile phone than he is in me, post 2.0.
Rating: 3.0